This is Kingston (cool name, right?).
When Kingston was 3 years old, he was diagnosed with cancer and put on a 3 YEAR chemotherapy program. During those 3 years, the chemo treatments were weekly. On top of putting poison into his body on a weekly basis, Kingston was also subjected to monthly spinal taps.
Not familiar with a Spinal Tap? Here is how the procedure is performed…and remember, this is happening to a 3-YEAR-OLD boy.
You will either: Lie on your side with your knees drawn as close to your chest as possible and your chin toward your chest; or lie on your stomach with a small pillow beneath your lower abdomen
After cleaning your back with an antiseptic, sterile cloths will be placed around the area.
A local anesthetic will be injected into the area of your back that the fluid will be drawn from. You may feel a slight burning sensation.
When the area is numb, a hollow needle is inserted in the lower back between the two lumbar vertebrae. This sometimes causes pressure.
The spinal canal is penetrated, and fluid is collected
The needle is removed after the fluid is removed. The area will be cleaned with an antiseptic and covered with a small bandage.
That doesn't even sound REMOTELY enjoyable.
During his 3 years of treatment, Kingston lost weight, he lost his hair, he was nauseous for long periods and he was weak.
Today, Kingston is 7-years-old and in 3 weeks, on November 22, he will celebrate a major milestone. It will be one whole year since his last round of chemo.
To Kingston and his family, thank you for allowing us to share in your victory.
Monday workouts are always done at Baby Bull Boxing, home of 4-Time World Champion, Juan Diaz, a major supporter of Snowdrop Foundation
Juan's coach, Brian Caldwell takes me through a boxing workout for an hour.
There is NOTHING easy about this.
Boxing rounds last 3 minutes, and in a normal fight, there is a 1 minute rest in between. Here, we do 3 minute rounds with a 30 second rest.
Trish recorded some of the workout today,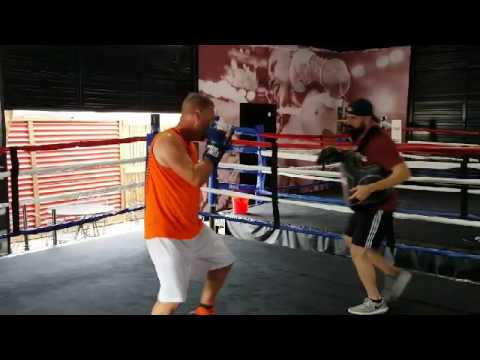 which consisted of:
3 rounds of jumping rope
4 rounds of hitting the pads
3 rounds on the heavy bag
200 punches (no break) on the heavy bag
3 sets of 5 pull ups
25 push ups
The video is posted in the first comment…because I don't know how to work social media deftly enough.
Who will you meet tomorrow?
#Snowdrop175AcrossItaly #abc13 #UMS17 #thenew93q #Evamor